---
It's the BYEpocalypse of the NFL season and things are not getting any easier. So here, I made this Fantasy Mixtape Week 7 for you:
Mixtape 7 Track 1 
With six teams on bye this week, it feels like the NFL is asking us, "Am I more than you bargained for yet?". The answer is a resounding YES. I wasn't ready for this. I'm sweating and panicked; "That's just who I am this week." I don't have Justin Herbert, Josh Allen, Ezekiel Elliot, Adam Theilen, or Najee Harris to pull me out of a funky loss this time. "Sugar, we're going down," and boy, I am not ready for the fall out. 
Mixtape 7 Track 2 
I just took a look at my teams and noticed a few of them are a bit heavy in the loss column. It feels like I'm drowning in injuries and bad choices. Those teams are quickly "falling," they're "stopping and stalling." I'd hate to have to get a New Tattoo, but the loser's bracket is so much "closer than it is too far." But I'm not going to give up. I'm just "trying to keep up above in my head, instead of going under." If I can pull something off and make the playoffs, I'll rise from the waters of despair like this guy. -insert sick guitar solo- 
Mixtape 7 Track 3
This song goes out to Mr. Derrick Henry. "I got chills. They're multiplying," after watching him slice through the Bills defense in Week 6. "Ooh ooh ooh, honey," this man rushed for 2027 yards and 17 touchdowns in 2020, and he could do it all over again. He's currently at 783 yards and ten touchdowns on the year with 11 games to go. So I'll say it again, "ooh ooh ooh HONEY!" "The power you're supplying is electrifying," Mr. Henry. Plain and simple: "You're the one that I want" on my fantasy football team. Whatever board I draft with next year, I want Henry's sticker.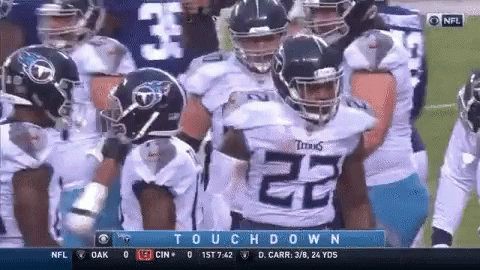 Mixtape 7 Track 4 
This track goes out to Le'Veon Bell, Devonta Freeman, and Latavius Murray. They all saw paydirt in Week 6, and it left me checking the year on my calendar. "Time, why you punish me?" Just a few years ago, it would have felt nice having these guys in your starting lineup. However, it's 2021 and, "the past has come and gone." But, I guess when it comes down to it, a touchdown is a touchdown, and it shouldn't matter. With bye weeks and injuries, I should be thankful for the points. So if it gets me a win, I'm okay with putting my calendar down, looking the other way, and saying, "I don't believe in time."

For more content connecting fantasy to your everyday life, follow @cooterdoodle on Twitter.
---
← Older Post Newer Post →
---
0 comments
---