---
Follow @DaddysHomeFF
The final week of the regular season is upon us; I cannot believe how quickly it came and went, but here we are. It is time to put a big fat bow on the Week 18 players to start and get ready for the offseason with some fire dynasty content heading your way soon.
So like we always do, let's recap Week 17 and dive into the Week 18 slate to find one last set of smash plays for the weekend.
Reviewing Week 17, We Crushed It
Week 17 saw Mac Jones and D'Onta Foreman go off for your team. Two Not-So-Sexy Starts hitting the top 12 is what we dream about here. With so many titles on the line, these guys have you looking sexy with your new Championship Belt, and you love to see it!
Even Van Jefferson was pulled off the scrap heap for a double-digit PPR performance—something you would have loved to have in your flex. 
Jonnu, on the other hand, did not come through in a game where it seemed like every Patriot went off. So what can I say other than I suck at picking low-ranked tight ends. There is a reason I draft elite tight ends in my leagues, and I prove it in these columns every single week. 
All I can hope is that these columns helped you somehow because I had a blast bringing them to you every week. 
Enough of that; we have business to attend. It is Week 18 of the regular season, and Daddy is feeling good about this week's picks. I am never one for guarantees, but these guys are looking like smash options for those still playing. 
Start a Quartback Positioned with a Comeback Game for the Ages in Week 18
Josh Allen is coming off a three-interception performance against the lowly Falcons, and there are whispers that he might be on the hot seat. However, I am nothing if not bold. I'm predicting Allen bounces back against a Jets team that will be out for blood. I wouldn't expect a ton against a stout Jets defense, but if I had Allen, I would give him one more week and hope he falls into the end zone. If he wants to keep his job he'll need a top 12 finish when a lot of players are resting for the playoffs. 
A Running Back, with Zero Receptions in December is a Long Shot
Crazy to even consider a guy who doesn't catch passes, but this kid might be ok in Week 18 against a pretty bad Jags defense. Jonathan Taylor might need to break one or two runs but I think he has a good chance at being an RB1 this week. I know he lacks vision but if his offensive line can open some holes, anything could happen. 
Jonathan Taylor just got stuffed on another goal line carry during the time it took you to read this tweet

— Ian Hartitz (@Ihartitz) September 20, 2021
I would start him over studs like Derrick Henry and Cam Akers despite both were activated off IR. I would expect him to outscore both, even if it's only by a few points.
Unathletic Receivers Still Have Heart
I am looking at a gritty gym rat who was a third-round pick and honestly had a borderline laughable combine. However, Cooper Kupp is looking to put all that behind him this week and show up against the 49ers secondary in a must-win game (I think it is anyway, I didn't look at the playoff bracket).  Kupp should produce modest numbers, but those would be impressive given his limited physical skills.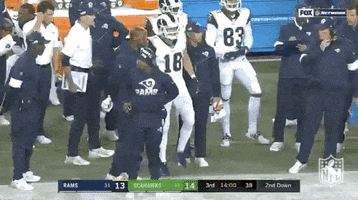 Much like Rudy, it is hard not to cheer for an underdog who almost no one is talking about. 
Which Tight End Start Should I Curse in Week 18?
How about we go out on a limb and go with a guy who has never exceeded 100 catches in a season? Look at me just spitting in the face of the PPR gods and taking some big swings this week. Crazy, I know, but it is not like I can get fired for it. I am getting like 12 clicks an article which has to be selling some trophies... Right, Matt?
Hopefully, Mark Andrews will outscore what Jonnu did last week and sniff a top 12 tight-end finish in Week 18. Obviously, he will need a touchdown and a little bit of luck, but I think his time is now. 
So there you have it, a bold call at each position for these underperformers ready to break out when it only helps like three percent of the fantasy community. It's typical to be honest, but it gives them some hope of having some trade value in the offseason. 
Thanks for riding with me through this crazy journey of gross starts! And see you next year with even more nastiness!
Follow Daddy on Twitter!
---
← Older Post Newer Post →
---
1 comment
---