---
As promised, we are continuing the Not-So-Sexy weekly segment. We are discussing those players on your bench or waiver wire who you must start in Week 12. Getting these players in your lineup is essential to grab those all-important W's heading into the playoffs! Make sure you comment on the post and let us know who you consider a must-start.
Now, I have always prided myself on being fully transparent on my calls, so I want to cover and close the book on Week 11's calls before we dumpster dive into Week 12.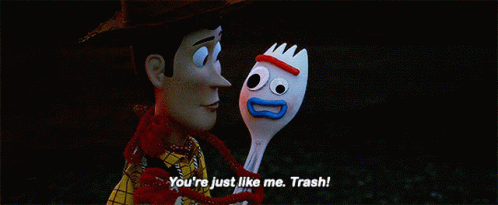 I think Forky from Toy Story put it best: "I'm Trash." Yes, ladies and gentlemen, even DaddysHome gets a few calls wrong now and again. And Week 11 included three misses, two of which are 100% on me!
Recalling the Must Start Week 12 Plays
Starting with Baker Mayfield, who much like Forky and I, was absolute trash. Was it injuries? Lack of talent? A hangover from the night before? I have no clue, but 15 for 29 was a worse completion percentage than Tim Freaking Boyle. 
Read that again to yourself and try not to throw up in your mouth. 
Juice Landry was the best-looking Brown under center last week and the only reason the hapless Browns barely pulled out a win. So, sorry Baker; much like Mark Cuban on Shark Tank, I am out!
Cole Kmet is also my fault. You were right to call me an idiot for betting on a Bears tight end. Marquise Goodwin played breakout star while Kmet just flopped. Sure there was a quarterback injury, but we are about Title Belts and Championship Trophies at the SmackZone—not excuses! So this was a flop.
Now Nico Collins was robbed by the refs of his first NFL touchdown, and yeah, I am still a little pissed. But the results led us to the Toilet Seat. You deserve better from me, and you will get better starting this week!
Our one win: Myles Gaskin. My man went off, accruing 17 points against the Jets despite the Dolphins getting stuck in neutral for a lot of the game. Appreciate this dude for saving me from complete embarrassment! 
So here we are in Week 12, and winners come back stronger than ever after a tough week! Like my pal Rocky said, "It's about how hard you can get hit and keep moving forward!" This week, we are bringing you the ugliest weekly winners you will find in any column. We aren't giving you Austin Ekeler and Jonathan Taylor over here; it's time for some Not-So-Sexy starts for week 12!
Quarterback: The Gross Environment Surrounding Tyrod Taylor
Let's hammer the Not-So-Sexy starts using an incredibly unsexy game. Jets-Texans is only saved from the bottle of the barrel this week by Lions-Bears, but both games will be just awful. I wouldn't want to watch a second of it save for the fact that it is full of fantasy gold. 
That is what we do here; we show love to the gross and unloveable.
Taylor finally showed signs of life during a massive upset over the Titans in Week 12. But let's not confuse a few highlights from a good game; he still only accounted for 135 yards of offense.
Diggs is elite, but whew I feel like the Jets defense made it easy for him pic.twitter.com/f7yBYDOXns

— Billy M (@BillyM_91) November 17, 2021
So why this week? The hapless Jets are 23rd against opposing quarterbacks in what should be a neutral game script as both teams absolutely suck. But why do both teams suck? Because they can't stop anyone. Let's get a piece of this nasty mincemeat pie while everyone else is filling up on the Rams-Packers. We are better than that!
Running Back: Running It Back? Start Week 12 with Ty Johnson
Ty Johnson putting Tevin Coleman believers in a ⚰️ this season.pic.twitter.com/bTcEQMP9Tw

— Derek Brown (@DBro_FFB) September 2, 2021
My dude Ty has been building a following for a while now. This man is explosive! Jets promising rookie Michael Carter is out with a high ankle sprain. So now, Ty Johnson gets an opportunity to play in this mess of a game against the Texans with only Mr. Glass, AKA Tevin Coleman, to compete with for touches.
Watch this kid get loose—it is going to be a sight to see! 
Do I wish we were getting a different quarterback other than Zach Wilson? Of course—dump-off king Mike White would have been lovely. However, Wilson doesn't make him worthless. He is a great cheap option, and that is what we want here.
Wide Receiver: Mike's Patriot Guarantee is Kendrick Bourne
We have said it here before: the Titans can't cover anyone! Kendrick Bourne isn't the same target hog Jakobi Meyers is; he also doesn't have the jets like Agholor. However, what he does have is extremely high value in the Patriots offense. Those intermediate routes are a staple for the Pats, and Bourne should feast on those in Week 12 like they are Thanksgiving leftovers. Even with only four targets a game, he is catching everything and making them count.
Bourne should be a free square this holiday weekend.
Tight End: Albert Okwuegbunam Sneaky Play Who You Must Start in Week 12
Albert Okwuegbunam is a beast of a human being and - not going to lie - probably too sexy for you. But he is available because his team doesn't love him enough to make him the starter. So here you are with the good fortune of having this gorgeous man just sitting there waiting for you to swoop in and whisk him away. With the Chargers 31st against opposing tight ends, their focus will be on stopping Noah Fant, allowing Albert O to run free. The three catches for 77 yards we saw against the Eagles is his floor in Week 12. 
You heard me! Bold calls win that trophy homie. We don't hedge bets here!
So there you have it; the play you have to start for Week 12. They will be talking about this rebound after a bad week for years. So come get this Bling and wear it proud because you were willing to get dirty and play the matchups instead of just playing studs. No front runners here, only grinders! 
Speaking of grinders, if you want to check out more content from the real Earl of Sandwich(es), follow Mike on Twitter!
---
← Older Post Newer Post →
---
0 comments
---